Stephie Cyr
Designation: Founded Inner Insights in 98, Nutritionist, Herbalist, Iridologist, graduate of Massage Therapy, Corporate Wellness Coordinator, Key Note Speaker & Dynamic Workshop Facilitator, Instructor for Holistic Spa & Massage Certification Courses.
Stephie is a firm believer in a holistic approach to health and wellness and is passionate about empowering individuals to develop to their fullest potential and to live happy, healthy lives.
Full Bio
Joy Kelly
Designation: Holistic Aroma-Spa Therapist, Hot Stone Aroma Therapist in training, Swedish Masseuse. Health & Wellness advocate, Joy believes in encouraging natural holistic ways to heal the body, mind and spirit. Looking forward to being a part of your healing journey. 
Leslie Wendland
Designation: Yoga Acharia (master), Pranic Healing, Intuitive Restoration, Accountability Partner Her studies began in India, studying the traditional Sivananda Lineage.  Leslie understands the spirit through scientific eyes and leads her life honouring her intuition.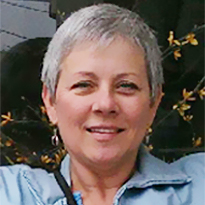 Lorraine Gravel Stacey
Designation: Holistic Aroma-Spa Therapist, Aromatherapy Deep Tissue Masseuse, Aroma-Hot Stone Therapist, Usui Reiki Master Through out her life Lorraine has developed her intuitive ability to 'sense' beyond the physical. Her compassion for people helps her ability to connect and treat our clients.
Qianhui Zhang
Designation: Holistic aroma-spa therapist Qianhui Zhang certified in holistic aroma-spa therapist. My core beliefs for being are love, wellness and happy. Helping clients to be better daily and convey happiness, leading the life to become meaningful. Also fluent in Mandarin. 
Lindsey
Designation: Aroma-Hot Stone Therapist, Deep Tissue Aromatherapist Lindsey Cherrett
Kelly Rogers
Designation: Certified Holistic Aroma-Spa Therapist, and Aroma-Hot Stone Masseuse
Kelly has always had a passion for helping & healing others. She also assisted individuals with developmental disabilities as a PSW (Personal Support Worker) for 4 years. We are blessed to subcontract Kelly, she owns
Happy Rock Holistics
Kristyl Kruusi
Designation: Certified Aroma-Hot Stone Therapist, Deep Tissue Aromatherapist Kristyl Kruusi has been a part of Inner Insights since 2007. As a Certified Aroma-Hot Stone Therapist, and Deep Tissue Aromatherapist she takes pride in treating our clients with compassion and energy.
Dawn
Designation: Aroma-Hot Stone Therapist, Deep Tissue Aromatherapist Specializing equally in direct deep pressure and relaxational Swedish massage, Dawn is certified in both Hot Stone Massage and Deep Tissue Aromatherapy. Providing a soothing holistic approach to health and wellness she offers alternative healing guidance, customized aroma therapy and targeted home care advice. Soften tension, create alignment and bring harmony to body, mind and spirit.
Renee Freeman
Designation: Qualified Esthetician, Licensed Cosmetologist, Nutritionist Married mother of two and also a Fitness Co-coordinator and successful Fitness Competitor. Also certified Hot Stone Aromatherapy Practitioner. Im passionate about my work and a caring nurturing individual.
Rick Schack
Designation: Certified Aroma-Hot Stone Therapist, Deep Tissue Aromatherapist, Aesthetics Rick Schack is a certified hot stone therapist and Aromatherapy Masseuse. Practicing deep tissue massage for nearly 7 years and healings for over 16 years, he is a skilled intuitive reader, with the ability to see auras, energy blockages and more.
Alberto Alexander
Designation: Reiki, Deep Tissue Aromatherapist His South African roots adds volume to an already amazing Deep Tissue
Matt Varallo
Designation: Certified Reflexologist, Deep Tissue Aromatherapist
Jessica Steckler
Designation: Deep Tissue Therapist Jessica Steckler, certified in Aromatherapy Deep Tissue Massage. I have always had great intuition and a natural sense for helping, healing and caring for my community. Jessica enjoys working to relieve people pain and help re-balance mind body and soul.
Paulette O`Neil
Designation: Registered Massage Therapist, Hot Stone Therapist, Meridian Massage, & Therapeutic Ultrasound Therapist
Maria Ramirez
Designation: Certified Hot Stone Therapist, Deep Tissue Therapist, Eco Spa Esthetician Maria is also fluent in spanish.
Heloisa Porto
Designation: Psychotherapist, Expressive Arts Therapist, Nutritionist, Sweat Lodge Master, and Spirit Releasement Therapist Throughout her healing journey, she has developed a broad understanding of the body-mind-spirit-interconnection and a depth of empathy, compassion, and intuition for other people's emotional and spiritual processes.